You've heard the phrase, "Criminals return to the scene of the crime." The reason this is a common phrase is because it's often true. Burglars often hit the same home twice, or even multiple times. Alarming Ideas, a security systems company in North Stonington, CT, wants to protect you and your family from criminals.
The experts at Alarming Ideas list four reasons why criminals would go back to the same house over and over again:
Familiarity: The intruders already know the layout of your house, including the entrances and exits, making it easier for them to quickly burglarize it again.
Know You'll Replace Stolen Items: Burglars understand that electronics like TVs and computers, as well as other expensive, big-ticket items, are likely to be replaced quickly. So they plan to come back and steal them again.
Come Back For Other Valuables: Whatever the burglars didn't have time to steal the first time, they will come back for a second time.
No Security: If criminals could successfully burglarize your home one time, they'll do it again, as opposed to risking a new target that may have security systems in place.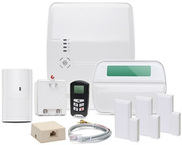 Prevent yourself from being a victim of a burglary by having security equipment installed in your home. Criminals will be less likely to even attempt breaking in if they know security systems are in place. As soon as burglars attempt to break into your home, the burglar alarms will stop the intruders in their tracks. They'll know right away that you have strong security and won't be an easy target.
If you want to prevent break-ins, Alarming Ideas in North Stonington, CT, offers security systems and installation that will suit your needs. Alarming Ideas has been protecting homes and businesses in Connecticut and Rhode Island for over 30 years.
This family-owned and operated business understands just how important it is to protect your family and belongings. Give them a call today at (860) 887-2121 or visit their website for more information.