Alarming Ideas, in North Stonington, CT, is the most trusted name in home and business security, serving customers throughout Connecticut and Rhode Island. With over 30 years' experience in the security systems business, this family owned and operated business provides their customers with the highest quality service and the most advanced products in the industry.
Alarming Ideas specialists can handle any size project and will consult with you about what's right for your home, whether it's burglar alarms, emergency medical alerts, video surveillance systems, or a wireless home security system. Alarming Ideas number one priority is that you feel safe and protected.
Alarming Ideas knows that security systems are the biggest piece of the puzzle in keeping your valuables safe. Here are some simple ways to keep your neighborhood safe: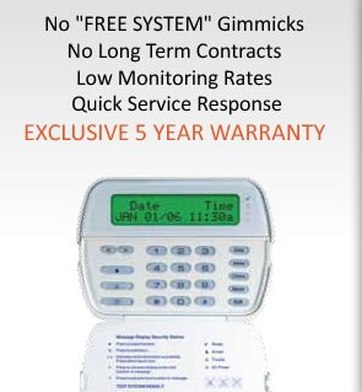 Know Your Neighbors: When you know your neighbors, their family and their routine, it helps you be aware of who is in your neighborhood and what could be suspicious. Let your neighbor know the same about you and exchange ways to get in touch with them if you see something out of the ordinary.
Keep A Clean Yard: Alarming Ideas advises you to keep lawns mowed, shrubs trimmed and your house freshly painted. This tells criminals that your home is cared for and there's nowhere for them to hide. Pitch in to help a neighbor that might need help with this upkeep.
Let Someone Know If You're Leaving Town: When you leave town, tell your neighbors so they can keep an eye on your property. Arrange for your mail to be picked up, your lawn mowed, and set a timer on your lights.
Use Bright Lights: Criminals love a place to hide, so blow out the darkness with porch lights and motion-sensor lights in the back or sides of the house.
Communicate With The Cops: Request the police do a drive-through every night in your neighborhood when possible. A police presence will definitely discourage criminals.
Install A Security System: Keep your family and you safe by installing a home security system. A burglar does not want to call attention to him by sounding off alarms. At Alarming Ideas, they have many systems to fit your budget, whether you're looking for a burglar alarm, hidden cameras, or a wireless home security system.
Alarming Ideas, in North Stonington, CT, is dedicated to providing expert installation, alarm system monitoring, and ongoing support to their customers. There's no need to wait when it comes to your family's safety! Give Alarming Ideas a call today at (860) 887-2121 or check out their website.